Do you have those days when you think to yourself, I feel like crap. I want to feel better. Well....... I have been feeling that way for a while now. Not like terrible, but you know I've got a 35 year old body now and I think my not so good eating habits and lack of exercise the last few years has really got me thinking. Do I want to live to see my grand children! Well the answer is yes. So....I'm trying something new. The last couple of days Dr. Pepper (my favorite drink) is sitting at the store instead of my fridge. I've been starting the day with a fruit shake. Simply a cup of juice and 3-4 frozen fruits, and a scoop of fiber. It tastes great and well, we'll see what happens. So what do you eat that's healthy for lunch. My brilliant sister came up with this one. It was savory! Much better than a hamburger and fries!
I started with a lightly toasted piece of sour dough bread. Smothered it with cream cheese. Layered with spouts, fresh tomatoes from my neighbors garden, avocado slices, cucumber and finished with salt and pepper.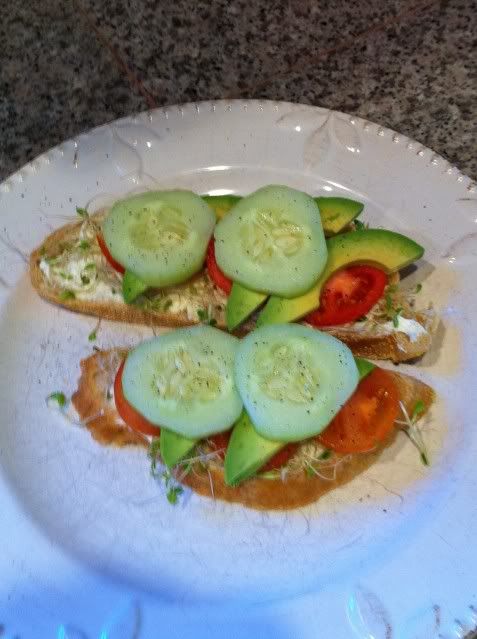 I'm pretty proud of myself to be honest. If anyone knows a good treadmill to buy, I'm in the market.
Hope you all enjoy!
Amy